Brief history of Jubilate – The beginning
By Garry Walton
As nearly as anyone can tell, the wonderful decades-long institution that is Jubilate began as an impossible dream in the crazy mind of Dennis Hamm and was brought to life by Carl Beard.
The Rev. Dennis Hamm came to the Baptist Student Union (BSU) of the University of Virginia in 1972―the fourth campus minister in four years. In 1970, UVa alum Rev. Clint Hopkins, who had served for many years as the BSU director at UVa, was succeeded by interim BSU directors and furloughed missionaries Norm Lytle and Dale Hooper. Arriving just after co-education had come to the University, Dennis brought dependability and a friendly personality that helped give 1500 Jefferson Park Avenue a welcoming and casual ambiance.
The Rev. Carl Beard was even more outgoing than Dennis―a bundle of energy, full of musical ideas and eager to teach, challenge, motivate, and inspire the congregation at University Baptist Church. For years, the church next door to the University had longed for an effective student ministry but, apart from the regular student attenders who worshipped at 1223 West Main Street, there was no real, tangible connection between the church and its neighboring university. Uni-Bap had a long tradition of creative worship, thanks in part to the powerful preaching of Rev. Richard Epperly Myers, minister since 1964—even though he was a Hokie from Va Tech! With the arrival of Carl Beard, Dick had a creative worship partner who, along with his wife, pianist, and organist Judy Beard, energized the church's music ministry.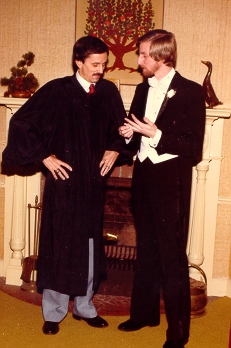 Sometime shortly after Carl's arrival in October 1972, he and Dennis met to discuss mutual ministry projects, and the creative sparks flew. By early second semester 1973, Carl was gathering a few interested University students in the basement of the BSU around an old, quasi-tuned piano. There was no thought of auditions, simply of finding a few pieces of music that the group (and their listeners) might enjoy. The closest thing to a tour was a trip down the street to Jefferson Park Baptist Church, where the fledgling group sang a couple of songs for an evening worship service.
That fall of 1973, rather than dying, the group began to grow. Soon there were 30 voices, from the original group of about a dozen: 21 women (heavy on the sopranos) and 9 men (with a brave―and loud―trio of tenors). The first program for that 1973–4 year showed the birth of some of the traditions that would mark the group ever after―high-quality music for worship and fun, a tour over Spring Break, and a homecoming concert. After a much more successful return visit to Jefferson Park Baptist, the first Jubilate tour featured trips to churches around Virginia and North Carolina (including the home churches of some members) as well as an appearance at the state BSU convention at Eagle Eyrie in Lynchburg, VA. One special touch that first year was that each female member was responsible for producing her own dress, in a floral print, and the males sported sweater vests and bow ties―some persuasive males even managed to convince the seamstresses to provide them with bow ties from the leftover dress fabric! The floral prints and long hair in that first group photograph make it clear that Jubilate was born between the Beatles' Sgt. Pepper and the Bee Gees' Saturday Night Fever―lime green, bell bottoms, and double knits were just around the corner!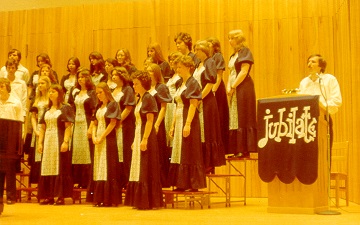 The next year, in 1974–5, the outfits included forest-green dresses for the women, with accent panels to match the men's ivory peasant-style shirts. The year after that, 1975–6, the color scheme changed to navy blue and white.
A few more bits of history:
Jubilate was founded on a commitment to diversity of faith and race, and remained open to anyone interested in the richness of its community, tolerance, musical excellence, and outreach to others.
The logo used on programs and posters and t-shirts throughout the '70s was designed by founding member and soprano Jeannette Fauber at a retreat in fall 1974.
Music from the early days of the group featured a combination of classical choral music, arrangements of pop songs like the anti-war ballad "One Tin Soldier" (made famous by the film Billy Jack) or the Three Dog Night songs "Shambala" and "Black and White," and spirituals.
Among the most important and often recurring names in the early musical history of Jubilate were Beck, Coates, and Guzman. John Ness Beck, a choral director of a Baptist church in Ohio, produced notable choral arrangements of hymn tunes. John Coates, Jr., a jazz pianist, arranged popular tunes for Shawnee Press and played in smoky jazz clubs in Delaware Water Gap, PA. Richard Guzman, a grad student in English at UVa, played a mean jazz piano and composed music. With encouragement from Carl, Richard created a series of arrangements for the Uni-Bap sanctuary choir and Jubilate, sometimes with a particular voice in mind, like those of powerful tenor soloists Evan Young and Ed Fontaine.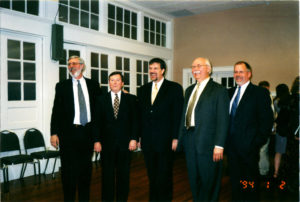 The musical selections for the 1975–6 season were selected with a historical focus to celebrate the nation's bicentennial. Pastor Dick Myers accompanied the group and served as narrator for that season's moving, thoughtful, patriotic selections, from Revolutionary War-era songs by William Billings to sacred harp and camp meeting music to the Hollies' popular "He Ain't Heavy." This program and tour included performances at the National Cathedral in Washington, DC, the Naval Academy at Annapolis, and the headquarters of the American Baptist Convention at Valley Forge, PA. It paid tribute to the University's role in the nation's bicentennial celebration, which culminated in a visit from Queen Elizabeth.
I was asked to rejoin the group to serve as narrator for the 1976–7 season. After an intense discussion about some of the non-Biblical narrations, we settled on a series of introductions that offered some variety. The musical selections that year varied from words by e.e. cummings, Frost, and Shakespeare to music by Gershwin, Pachelbel, Vaughan Williams, and the University's own former music faculty member, Randall Thompson. The illustration on the program cover for that year was drawn by Uni-Bap's lawyer-artist Ed Lowry, famous in the choir loft for the illustrations he created during the sermon each Sunday morning!
In its time, Jubilate has given birth to marriages (beginning with Johnny James and Robyn Teates, and Vince and Sharon Wilcox), to professional musicians (Vince again), to ministers (Kim Nelson, Bonnie Dillon, Hunter Ruch, Spencer Broce, Melissa Hall Scott), and God knows who else. One notable early alum is Dale Peterson, recently retired chaplain at Yale and dean of students at Yale Divinity School.
For 40 years, Robby Gough has served as the tour manager and missed only one, in 1995, when he slipped on the ice just before that season's tour and was replaced by Tom Mundell.
W.C. Keith was the faithful bus driver for numerous retreats until he sold his Waynesboro-based Trailways Bus franchise.
And alum Diane Weber Mundell has served a life sentence as treasurer and member of the Jubilate Alumni Board since its founding.