Your Gifts
You may support Jubilate by contributing to any of the following funds:
The Alumni Annual Fund – used to support all activities of Jubilate and the Alumni Association
The Jubilate Endowments – used to provide an ongoing source of support for Jubilate. There are three endowment funds:

The General Endowment Fund
The Robyn Teates Bixenman Memorial Fund
The David Veasey Memorial Fund
Make checks payable to University Baptist Church with the designated fund on the memo line. Checks should be mailed to our treasurer:
Diane Mundell
1545 Surry Hill Ct
Charlottesville, VA 22901
You can donate to a specific cause for Jubilate, including:
Sponsoring a Jubilate student by paying a part of their dues ($125)
Feeding Jubilate for their Sunday night practices ($50)
Contributing to the Jubilate Spring Tour, which includes bus transportation and some lodgingIf you are interested in contributing to a specific cause, put it in the subject line of the check.
Credit card contributions can be made through the UVA Alumni Association.
Instructions
Click the "GIVE ONLINE" box, and you will be redirected to a secure giving site. Here, you will select the "I'd like to choose where my money goes" option. At the bottom of the list on the right, there is an "Other" checkbox. Select this, and you will then be able to enter the Donation Amount in the box, and in the "Special Instructions" box, you will put the Jubilate fund you wish to donate by typing "Jubilate – " followed by the area wish you to designate, e.g. "Jubilate – Alumni Annual Fund" or "Jubilate – Veasey Memorial Fund".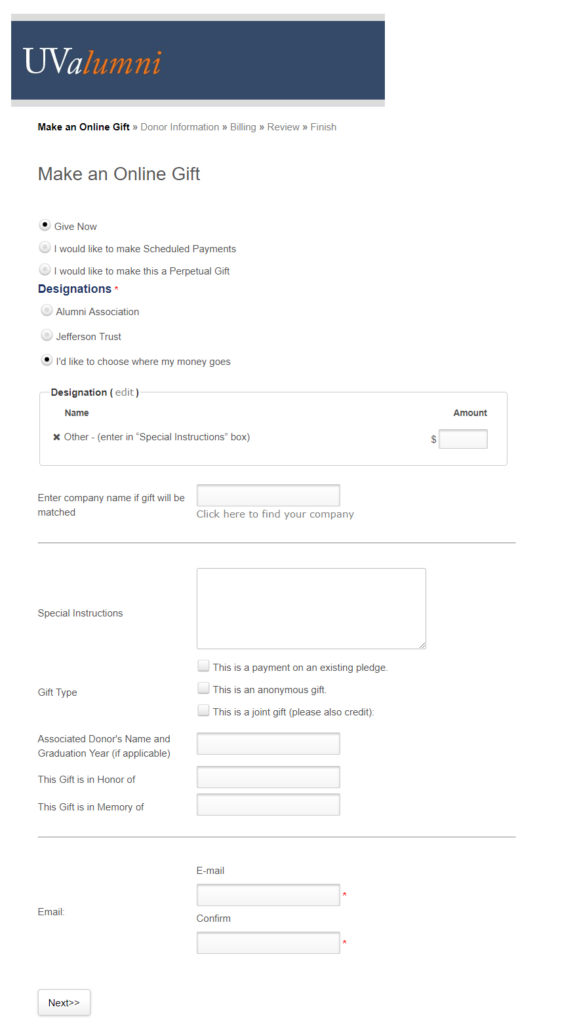 You can claim a charitable deduction for the fair market value of appreciated securities without paying capital gains taxes. Please contact Sue Walton, UBC Office Manager, by email or by calling 434-293-5106 for additional information on giving securities.